Kauai Condo Rentals
Beach Cottage

by Ocean Kauai Condo Rentals
Kauai Beach Condo Rentals
Garden and Pool Area Pictures

Prince Kuhio Condos is in the distance in this picture. It is surrounded by park to the right and ocean in front (to the South) and mountains to the North and a tropical garden and pool on the other side of the building. Prince Kuhio Condos is a small complex of 70 units nestled between the park and gardens and ocean. It is quiet and friendly and the location is perfect!



Looking from the Prince Kuhio Condos lanais we can see the ocean with views through Prince Kuhio Park. The view to the ocean from the condos is unobstructed. It is so close you can hear the ocean from the condo while you sleep!



We took this picture from the East entrance to Prince Kuhio Park. The ocean is to the left (South), the mountains are to the right (North), and Prince Kuhio Condos is streight ahead!



Another picture of Prince Kuhio Park looking toward Prince Kuhio Condos.



This is a picture of the entry to Prince Kuhio Condos from Lawai Beach Road. The beach access road dead-ends one mile up at Spouting Horn and the Allerton Botanical Gardens where Jurassic Park was filmed. There is parking here in front or behind the pool in a covered parking garage.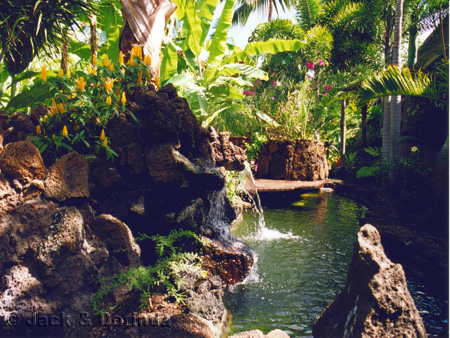 From the parking area in front, you walk over a bridge and pond to access the Prince Kuhio Condos tropical garden and pool area.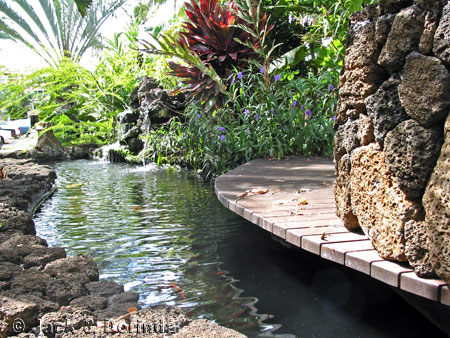 The tropical garden goes right up to the side of the resort. This picture is the pond again at the entry. It is a beautiful pond that spans several pools at multiple levels.



This is a close up of a lilly pond in the garden. These ponds are beautify and contain goldfish, frogs, and many varieties of flowers.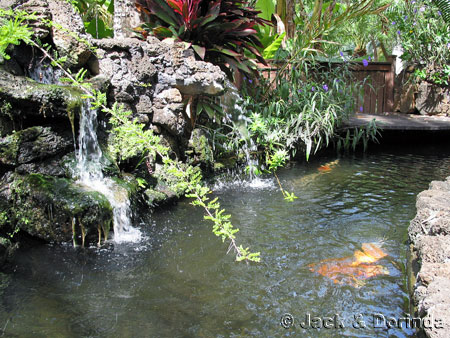 There are paths that go through the tropical garden where you will find a variety of Hawaiian flowers and plants. When you arrive, see if you can figure out how many different varieties of palm trees there are in the garden!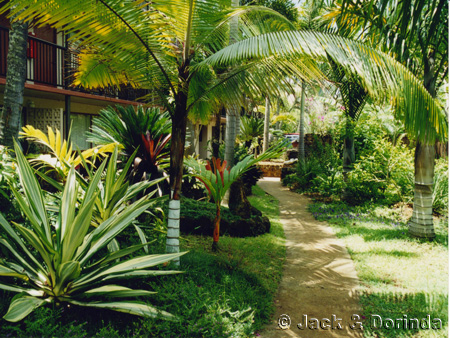 Another path through the tropical garden. This one leads to the pool area and BBQ area.



And of course, the pool area where a guest is enjoying the water.



This cascading pool is at the edge of the swimming pool. It is nice to be able to hear the water fall while sitting around the pool.



An arial view of the pool and garden at Prince Kuhio Condos.


Return to Kauai Vacation Rental Condo





© 2000 - 2001 All Rights Reserved
Ocean Kauai Vacation Rental Condos
Koloa, Hawaii 96756
303-578-2202







Other related sites:

Prince Kuhio Poipu Beach Owner Vacation Rentals Condos Kauai Hawaii
Kauai Kuhio Shores Oceanfront Vacation Rental Condo at Poipu Hawaii
Ocean Kauai Vacation Rentals System and Services
Kauai and Hawaii Discount Car Rentals
Kauai Oceanview Vacation Rental Condos at Prince Kuhio Poipu